Thursday Island
Thursday Island lies 30 km off the tip of Cape York and is the administration and hospitality centre for the Torres Strait Islands.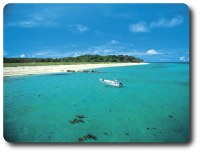 Thursday Island. Courtesy of Tourism Queensland
THURSDAY ISLAND – TORRES STRAIT
Imagine immersing yourself in a living culture with its traditions and native languages flourishing in the face of modernity.  Take the time to journey beyond Cape York and you will be justly rewarded with discovering the magical islands of Torres Strait.  Setting this special place apart from any other is its unique cultural heritage and pivotal wartime role due to its strategic location.
Situated in the heart of Torres Strait and just an hour's ferry ride from Seisia Jetty on Cape York, is Thursday Island (T.I. as it is affectionately known by the locals).
Thursday Island was established in 1877 as an administrative outpost but soon became a thriving port of pearls and continues as Torres Strait's commercial heart.  With a population of 3500 the island boasts four hotels, various motel style accommodation, restaurants and cafes.  Douglas Street, the main shopping precinct is a great place to pick up a bargain and soak up the languid tropical atmosphere.  Gab Titui Cultural Centre interprets the Torres Strait Cultural Heritage, exhibits and sells works by local artists.  Other places of interest include the Japanese Pearl Divers Memorial, Green Hill Fort, Lookout and the pearling, military and maritime displays at the Torres Strait Historical Museum.  Thursday Island's fascinating past is brought to life on Peddells locally guided bus tour.  Sit back in air-conditioned comfort and enjoy your guide's comprehensive and vibrant commentary, a scenic drive and stops at the most historically significant sites.
Friday Island's Kazu Pearl Culture Farm is a 15 minute water taxi ride from T.I.  Proprietor Kazuyoshi Takami offers visitors an amazing insight into the modern world of pearling with a seeding and/or harvest demonstration.  Enjoy a delicious lunch in one of the palm thatched shelters then take the opportunity to purchase direct from the source.  The farm's shop offers an extensive range of exquisite pearl jewellery.  This is surely one of the most hospitable pearl farms on the planet.
WWII enthusiasts will relish a visit to Horn Island, a 15 minute ferry ride across the bay from Thursday Island.  Learn of the island's pivotal role as an advanced operational airbase, some sites visited include slit trenches, aircraft wreckage, command posts and gun emplacements plus a private WWII museum collection.  An expert tour commentary echoes the hardships faced by those defending these shores from invasion.