Quinkan & Regional Cultural Centre, Laura
Owned and operated by the local community, the Quinkan Centre showcases all aspects of Quinkan country including its Aboriginal and non-Aboriginal heritage and the natural environment and ranks among Queensland's finest cultural centres.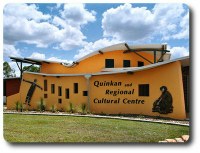 Quinkan Centre, Laura
Make this your first stop in Laura for information on the region. A select range of Aboriginal arts and crafts are available for sale, and you can book guided tours to some of the world famous rock art sites in the region.
The centre has several interpretive displays with information on the Quinkan rock art galleries, local families and tribal elders, the gold rush days and cattle stations. A DVD showcases the Laura region and children can even learn traditional dancesteps.
The Centre is operated by the Ang-Gnarra Corporation.