Cooktown History Centre
Housed in the oldest building in Charlotte Street, the former post and telegraph office, this is your one stop spot for everything related to Cooktown history.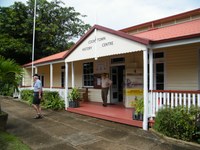 The History Centre
The display showcases regional history through stories, photos, interactive displays, murals and oral histories.
The Archive and Research facility has the largest collection of maps, photos and documents pertaining to Cooktown's history. The Centre provides local history and family research with over 60,000 names on the database.
The Cooktown History Centre is located next door to the Post Office at 121 Charlotte Street.
Open Monday-Saturday 9.00am - 3.00pm. The Archive and Research Centre is open throughout the main tourism season but may be closed from December to April. A small entrance fee applies to help maintain this volunteer run facility.
Ph: (07) 4069 6640