Black Cockatoo Gallery
Showcasing the stunning wildlife art by world-renowned artist Ross Franzi, this beautiful gallery was inspired by the unique eco-system of the Bloomfield region.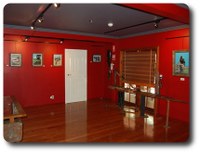 Black Cockatoo
Set in twenty--five lush acres of paradise, a huge variety of native birds, frogs, lizards, wallabies, arid rare and endangered animals are regular visitors to the gallery.
Enjoy a real coffee with a bite to eat on the gallery deck which overlooks the property.
Located just off the Bloomfield track, 12 kms north of Wujal Wujal, the gallery hosts a number of art classes, workshops, special exhibitions and environmental talks throughout the year.
Ph: (07) 4060 8153
Email: info@blackcockatoogallery.com.au
www.blackcockatoogallery.com.au