Mary Watson
Mary Beatrice Watson, nee Phillips, was born in the Cornish town of Truro, England. During the mid 1870's, her family emigrated to Queensland. While working in Cooktown, Mary met Captain R.F. Watson, a beche-de-mer fisherman. The couple married in Cooktown on 30 May 1880. They moved to Lizard Island where their son, Ferrier, was born in 1881. Their homestead was apparently built on an Aboriginal sacred site. It is widely believed that this provoked the attack on the holding.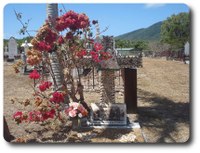 Mary Watson's grave, Cooktown Cemetery
Mary Watson's disappearance caused great anxiety and concern within the Cooktown community. The emotions and feelings are reflected by the Cooktown Courier of January 1882.
The mystery which surrounded the Lizard Island tragedy has at length been cleared up.
... Mrs. Watson was left on Lizard Island with a baby and two Chinese servants, on the 27th September, the blacks came, and next day speared one Chinaman, and on the 30th speared the other in seven places, but the dauntless woman defended herself so resolutely with firearms as to drive them temporarily away. But to remain was certain death, and on the 3rd October she escaped in an iron tank, with her child, the wounded Chinaman, and a supply of provisions. They floated all night, and next day landed on a bare reef, where she remained till the 6th October.
Water gave out, and the poor hunted woman pulled the tank and its contents over to No 1 Island of the Howick Group. Search for water there was in vain, but natives were there, so she again started, and reached No 5 Island, 40 miles away, on the 8th.
There surrounded by water - but all salt; with plenty of provisions, which her parched and swollen throat could not swallow,. with her child, only a few months old, dying before her eyes, while she herself suffered the torture of Tantalus; she died of thirst.
It was not until January 1882 that the bodies were discovered and brought back to Cooktown.
Mary, Ferrier and Ah Sam were interred in the historic cemetery of Cooktown. A memorial was unveiled by the then Mayor, John Davis, in February 1886. It stands in Charlotte Street near the Cook Shire Offices.
The diary of Mary Beatrice Watson
In 1891, Mrs. Watson, her new born son Ferrier, and their man servant Ah Sam headed to sea in a tank used for boiling down beche-de-mer. So began a remarkable but short journey that ended in tragedy. The reason for this apparent insanity is clear from Mrs. Watson's diary entries from 27 September to 11 October.
Diary 1 Lizard Island
September 27, 1881
... Ah Sam saw smoke in S. direction, supposed to be from native camp. Steamer bound north very close about 6pm; Corea I think.
September 28
Blowing strong S.E. breeze.
September 29
... Ah Leong killed by the blacks over at the farm (a quarter of a mile from her cottage).  Ah Sam found his hat, which is the only proof.
September 30
Natives down on the beach at 7pm. Fired off rifle and revolver and they went away.
October 1
Natives(4) speared Ah Sam; four places in the right side, and three on the shoulder. Got three spears from the natives. Saw ten men altogether.
Diary 2 Found in the tank
Left Lizard Island October 2nd 1881, (Sunday afternoon) in tank (or pot in which beche de mer is boiled). Got about three or four miles from the Lizards.
October 4
Made for the sand bank off the Lizards, but could not reach it. Got on a reef.
October 5
Remained on the reef all day on the look out for a boat, but saw none.
October 6
Very calm morning. Able to pull the tank up to an island with three small mountains on it. Ah Sam went ashore to try to get water as ours was done. There were natives camped there, so we were afraid to go far away. We had to wait return of tide. Anchored under the mangroves; got on the reef. Very calm.
October 7
Made for another island four or five miles from the one spoken of yesterday. Ashore, but could not find any water. Cooked some rice and clam-fish. Moderate S.E. breeze. Stayed here all night. Saw a steamer bound north. Hoisted Ferrier's pink and white wrap but did not answer us.
October 8
Changed anchorage of boat as the wind was freshening. Went down to a kind of little lake on the same island (this done last night). Remained here all day looking out for a boat; did not see any; very cold night; blowing very hard. No water.
October 9
Brought the tank ashore as far as possible with this morning's tide. Made camp all day under the trees. Blowing very hard. No water. Give Ferrier a dip in the sea; he is showing symptoms of thirst, and I took a dip myself. Ah Sam and self very parched with thirst. Ferrier is showing symptoms.
October 10
Ferrier very bad with inflammation; very much alarmed. No fresh water, and no more milk, but condensed. Self very weak; really thought I would have died last night (Sunday).
October 11
Still all alive. Ferrier very much better this morning. Self feeling very weak. I think it will rain to-day; clouds very heavy; wind not quite so hard. No rain. Morning fine weather. Ah Sam preparing to die, have not seen him since 9th. Ferrier more cheerful. Self not feeling at all well. Have not seen any boat of any description. No water. Nearly dead with thirst.
Source:
Cooktown Library, 1996